Description

Style:

Eisbock

Collections:

Beer, Draft,
Reborn after 60 years!

Aventinus, the wheat dopplebock of Bavaria, has always been known to be the most intense and complex wheat beer in the world. This was the case for the past sixty years, but not anymore ...

Up until the 1940s Aventinus was shipped all over Bavaria in containers lacking temperature control. Consequently, the precious drink partially froze during transportation. Unaware that the brew was concentrated by the separation of water from the liquid, people were baffled by this stronger version of Aventinus. By chance, the first Aventinus Eisbock was created.

Well aware of this story, Hans Peter Drexler, brewmaster at the Schneider Brewery, decided to recreate this classic "mistake" in a modern controlled facility. Thus, the Aventinus Eisbock is reborn sixty years later ... Prost!

"This spectacular beer is like Aventinus, but more so. Of course, as a true eisbock it is derived from Aventinus by freezing it, then removing the ice. This leaves a maltier more alcoholic beer. The aroma is huge with the normal malty, clove, and banana esters but also with the warming alcohols of rotting or overripe fruit.

Like Aventinus this beer is quite bubbly but the thick body hides this a bit more here. On the palate there's more of the great malty caramelly sweetness, more banana, cloves, cocoa, nuts. The finish lasts forever and has some dry fruit notes not found in Aventinus.

The color is significantly darker caramel than mama Aventinus too. As it warms you get subtle new spice and herb flavors, including coriander, savory, cardamom, peppers, even some minty notes. The body is extremely thick and creamy, silky. The late fruity notes keep changing and include melons (canteloupe?), berries, plums, and persimmon. There's also the same bit of sweet fungus that's always present in Schneider's wheat beers.

Leave it to Schneider & Sohn to push the boundaries of wheat brews. This sets a standard for wheat wines that will never be beat, though one hopes others will try, and maybe even come up with something nearly as good ... The only reason I don't give this beer a score of 10 is that I don't believe in perfection. This one rises to the level where I can honestly say I've never had a better beer."

Alan J. Moum
Oxford Bottled Beer Database

---
Appearance:
Dark, ruby brown color with large white head.
Aroma:
Scent of wheat, yeast, dark fruits, and sugars. Fairly complex.
Flavor:
Initial taste of banana follwed by roasted malt, honey, coffee, toffee, and slight cinnamon. Very smooth and balanced with decent carbonation.
Finish:
Subtle with lingering flavors of dark fruit. It is smooth all the way down with vanilla flavor.
---
---
| | | | |
| --- | --- | --- | --- |
| Version: | Type: | Size: | UPC/EAN: |
| | Case | 24 * 11.2 oz. Bottle(s) | 3739802924 |
| | Keg | 1 * 5.3 gal. Keg | |
| 2013 | Keg | 1 * 5.3 gal. Keg | |
| 2014, Barrique, Aged in Pinot Noir for over 18 months | Keg | 1 * 5.3 gal. Keg | |
| 30l Wooden Cask | Wooden Cask 30l New | 1 * 7.9 gal. Keg | |
| Barrique, 2017, Aged in Pinot Noir for over 18 months | Case | 6 * 11.2 oz. Bottle(s) | 4003669022136 |
| DO NOT USE | Wooden Cask 30l New | 1 * 7.9 gal. Keg | |
| Vintage 2009 | Case | 24 * 11.2 oz. Bottle(s) | 7 37398 02924 4 |
| Vintage 2009 | Keg | 1 * 5.3 gal. Keg | |
| Vintage 2012 | Case | 24 * 11.2 oz. Bottle(s) | |
| Vintage 2015 | Keg | 1 * 5.3 gal. Keg | |
| Vintage 2017 | Keg | 1 * 5.3 gal. Keg | |
| Wooden Cask - 2009 | Wooden Cask 30l New | 1 * 7.9 gal. Keg | |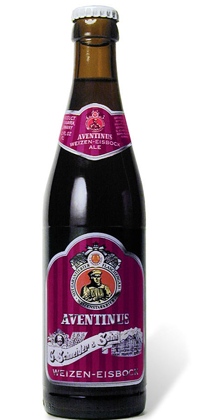 Picture: Aventinus Eisbock 11.2oz bottle