Description

Style:

Matured in Highland Park Casks

Collections:

Beer, Draft, Vintage,
Old Engine Oil matured in Highland Park Whisky barrels.

Ola Dubh (or 'Black Oil') is a collaboration between Harviestoun Brewery and Highland Park, Distiller of the Year*. It is based on Harviestoun's award-winning Old Engine Oil. With more than a stylistic nod to the classic Imperial Porters (and Stouts) of the nineteenth century, this deliciously rich, dark, 8% a.b.v. beer is the first ale to be aged in malt whisky casks from a named distillery and, with traceable casks and numbered bottles, the rst with genuine provenance.

Ola Dubh will initially be available in three di erent expressions; the initial release will be of small batches aged in casks formerly used to mature Highland Park 12 Year Old, Highland Park 16 Year
Old and Highland Park 30 Year Old. Further variants are planned for the future. Ola Dubh is, in the words of beer a cionado Owen D.L. Barstow: "The most interesting new British beer I have tried in years."

Retaining the appearance of used motor oil from which the beer gets its name, it is deep dark brown, dense and oily. On the nose there are notes of true oil and cocoa as well as faint smoke and heathery peat from the whisky casks. Although lighter in body that its appearance suggests, Ola Dubh is pithy, oily, salty and bitter on the palate. The nish is exceptional; burnt and bitter notes with an interplay of late hop characters, orange oil, fruity tartness and then delicate, fragrant smoke.

The current release is matured in Highland Park Casks that once aged 12, 16 & 30 year old Whiskys. More years and variants are planned for the future, in particular 40 & 50 year old casks.

Highland Park was also recently named Distiler of the Year by the Malt Advocate.

Old Engine Oil:

Old Engine Oil is a near-black brew with a silky-smooth rummy aroma, a coffee-ish palate, and a suggestion of the darkest chocolate. It is made from pale malt, roasted barley and malted oats. Old Engine Oil is well-hopped with the sweetish variety Galena from Washington State, Worchester Fuggles and East Kent Golgings.

The PG (present gravity) of Old Engine Oil is unusually high. This is because Ken Brooker wanted to produce a beer that had the character of a barley wine, i.e. high PG, lots of mouthfeel and high viscosity but with only

6 % ABV, rather than the more normal barley wine ABV of about 8.5 %.

He has used a high mash temperature to give the required wort profile. The trick is to balance this sweetness with the hop bitterness and acrid flavors from the Roast Barley.

---
Appearance:
Deep brown with small head
Aroma:
Mellow and whisky-like over smooth dark chocolate and a touch of toffee.
Flavor:
Sweet malt is quickly countered by bitter dark chocolate that has a slightly powdery texture. Tangy oak notes emerge and there's a whisky tingle on the tongue.
Finish:
Bitter chocolate and coffee, with tangy oak adding to the dryness.
---
| | |
| --- | --- |
| Alc./Vol.: | 8.0 % |
| Original Gravity: | 1060 |
| EBC: | 110 |
---
| | | | |
| --- | --- | --- | --- |
| Version: | Type: | Size: | UPC/EAN: |
| | Case | 12 * 11.2 oz. Bottle(s) | 6 00519 00092 0 |
| | Firkin | 1 * 10.8 gal. Cask | |
| (PA only) | Case | 24 * 11.2 oz. Bottle(s) | |
| Vintage 2010 | Keg | 1 * 6.6 gal. Keg | |
| Vintage 2010 | Keg | 1 * 7.9 gal. Keg | |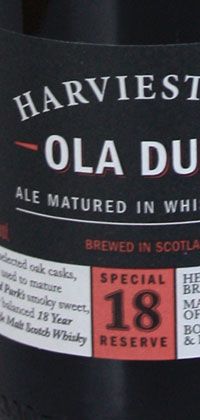 Picture: Ola Dubh 18 11.2oz bottle.