Description

Style:

Matured in Highland Park Casks

Collections:
Old Engine Oil matured in Highland Park Whisky barrels.

Ola Dubh (or 'Black Oil') is a collaboration between Harviestoun Brewery and Highland Park, Distiller of the Year*. It is based on Harviestoun's award-winning Old Engine Oil. With more than a stylistic nod to the classic Imperial Porters (and Stouts) of the nineteenth century, this deliciously rich, dark, 8% a.b.v. beer is the first ale to be aged in malt whisky casks from a named distillery and, with traceable casks and numbered bottles, the rst with genuine provenance.

Ola Dubh will initially be available in three di erent expressions; the initial release will be of small batches aged in casks formerly used to mature Highland Park 12 Year Old, Highland Park 16 Year
Old and Highland Park 30 Year Old. Further variants are planned for the future. Ola Dubh is, in the words of beer a cionado Owen D.L. Barstow: "The most interesting new British beer I have tried in years."

Retaining the appearance of used motor oil from which the beer gets its name, it is deep dark brown, dense and oily. On the nose there are notes of true oil and cocoa as well as faint smoke and heathery peat from the whisky casks. Although lighter in body that its appearance suggests, Ola Dubh is pithy, oily, salty and bitter on the palate. The nish is exceptional; burnt and bitter notes with an interplay of late hop characters, orange oil, fruity tartness and then delicate, fragrant smoke.

"It is rare that I find a beer on the shelves of high quality and worthy of comment to the brewer. I had occasion to obtain a bottle of the Ola Dubh 40 year old Special Reserve recently and had laid it aside for a special occasion. Today was such an occasion. It was a torrentially rainy day here in Philadelphia, with high winds and a warm humid atmosphere. Being that the weather was much like November, the flavors of fall appealed to me, so I grilled some venison chops (with hickory chips and some sage stems for a refined smokey flavor). As an accompaniment I sauteed some asparagus spears in olive oil (dressing them with orange rind), and made some wild mushroom tarts. Not content with the meal as was, I made a Bourbon, mustard, and blackberry sauce for the chops, and decorated the mushroom tart with chevre and fresh scallions. There was only one beer in my library to accompany this meal, the Ola Dubh Special Reserve 40. The beer was of outstanding quality and the pairing was as perfect as can be. The body, and intensity of flavor in the beer exactly matched the same for the food. Flavor threads connected the whiskey to the orange rind and vegetal character of the asparagus. The roasted malts, whiskey and slightly sweet flavor matched the game as well as the meaty, earthy and bready flavors of the mushroom tart.

"I extend my heartfelt kudos to the brewer of the beer. The beer was delivered at this distance fresh and unblemished. The manufacturing standards were impeccable. The extra handling of the beer introduced no contamination. I am becoming quite the fan of high gravity beer aged in wood. The next time I find myself in Scotland, I will add Alva to my itinerary. Bottle number 55744 fell into the right hands." Alex Crowe, Adjunct faculty (for beer) The Restaurant School at Walnut Hill College, Philadelphia, PA, USA

Highland Park was also recently named Distiler of the Year by the Malt Advocate.

Old Engine Oil:

Old Engine Oil is a near-black brew with a silky-smooth rummy aroma, a coffee-ish palate, and a suggestion of the darkest chocolate. It is made from pale malt, roasted barley and malted oats. Old Engine Oil is well-hopped with the sweetish variety Galena from Washington State, Worchester Fuggles and East Kent Golgings.

The PG (present gravity) of Old Engine Oil is unusually high. This is because Ken Brooker wanted to produce a beer that had the character of a barley wine, i.e. high PG, lots of mouthfeel and high viscosity but with only

6 % ABV, rather than the more normal barley wine ABV of about 8.5 %.

He has used a high mash temperature to give the required wort profile. The trick is to balance this sweetness with the hop bitterness and acrid flavors from the Roast Barley.

---
Appearance:
Opaque dark brown little to no head
Aroma:
Smoky, whisky-like and oaky with a little chocolate behind.
Flavor:
Bittersweet, with a strong whisky note after the initial hit of smooth, fudgy, dark chocolate. Tangy oak dries the palate and there's a just a hint of citrus.
Finish:
A warming swallow grows into a dry, bittersweet finish with more oak, dark chocolate and a lip tingling whisky warmth.
---
| | |
| --- | --- |
| Alc./Vol.: | 8.0 % |
| Original Gravity: | 1060 |
| EBC: | 110 |
---
| | | | |
| --- | --- | --- | --- |
| Version: | Type: | Size: | UPC/EAN: |
| | Case | 12 * 11.2 oz. Bottle(s) | 6 00519 00097 5 |
| | Firkin | 1 * 10.8 gal. Cask | |
| (PA Only) | Case | 24 * 11.2 oz. Bottle(s) | 000000000000 |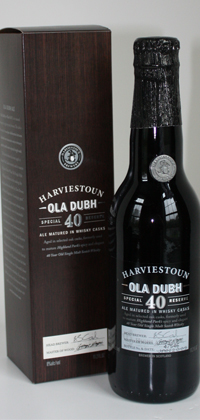 Picture: Ola Dubh 40 bottle and box