J.W.Lees Vintage Harvest Ale is only brewed once a year for release on December 1 of each year. It is a Limited Edition Vintage to celebrate the first brew from each year's harvest of barley and hops. Only the first delivery of the year's classic barley malt 'Maris Otter' and the classic hop variety 'Goldings' from East Kent is therefore used.

Fermentation is induced by J.W.Lees 'distinctive three-strain top-fermenting yeast. J.W.Lees Vintage Harvest Ale reaches 11.5 % alc./vol. once completely attenuated with a natural fermentation in open copper lined fermenting vessels that were commissioned in 1876 when the brew house was refurbished [J.W.Lees has been brewing at Greengate Brewery in Middleton Junction for six generations since 1828].

Pale in color it has a warm, estery aroma, a good deal of malty flavors on the palate, and a lot of hoppy dryness in the finish.
---
Appearance:
Rich, amber-red color.
Aroma:
Heady, spirituous aroma of pound cake, orange, and lemon rinds, baking bread, dried fruit, maple syrup, and concentrated malt.
Flavor:
Nothing else tastes quite like this- medium bodied, sweet, incomparably juicy, with fruity acidity combining with hop bitterness to balance. The center explodes in a riot of fruit and malt flavors.
Finish:
Hoppy, fruity, off-dry finish is endless.
---
---
| | | | |
| --- | --- | --- | --- |
| Version: | Type: | Size: | UPC/EAN: |
| | Keg | 1 * 13.2 gal. Keg | |
| 1999 | Case | 12 * 9.3 oz. Bottle(s) | 0 62067 02762 8 |
| 1999 (PA Only) | Case | 24 * 9.3 oz. Bottle(s) | 0 62067 02762 8 |
| 2000 | Case | 12 * 9.3 oz. Bottle(s) | 0 62067 02762 8 |
| 2002 (PA Only) | Case | 24 * 9.3 oz. Bottle(s) | 0 62067 02762 8 |
| 2005 | Case | 12 * 9.3 oz. Bottle(s) | 0 62067 02762 8 |
| 2006 | Case | 12 * 9.3 oz. Bottle(s) | 0 62067 02762 8 |
| 2008 (PA Only) | Case | 24 * 9.3 oz. Bottle(s) | 00000000000 |
| 2010 | Case | 12 * 9.3 oz. Bottle(s) | 00000000000 |
| 2010 | Keg | 1 * 5.3 gal. Keg | |
| 2010 Cask | Firkin | 1 * 10.8 gal. Cask | |
| 2010 small cask {pin] | Firkin | 1 * 5.3 gal. Keg | |
| 2010, wooden keg | Wooden Cask 30l New | 1 * 7.9 gal. Keg | |
| 2011 | Case | 12 * 9.3 oz. Bottle(s) | 5012015011648 |
| 2011 | Keg | 1 * 5.3 gal. Keg | |
| 2011 | Keg | 1 * 7.9 gal. Keg | |
| 2011 {PA only} | Case | 24 * 9.3 oz. Bottle(s) | |
| 2011 {PA only} | Case | 24 * 9.3 oz. Bottle(s) | |
| 2011, 25th Anniversary Version | Keg | 1 * 7.9 gal. Keg | |
| 2011, 25th Anniversary version | Keg | 1 * 5.3 gal. Keg | |
| 2011, 25th anniversary version, cask | Firkin | 1 * 10.8 gal. Cask | |
| 2011, Cask | Firkin | 1 * 10.8 gal. Cask | |
| 2012 | Case | 12 * 9.3 oz. Bottle(s) | 062067 027628 |
| 2012 , {PA ONLY} | Case | 24 * 9.3 oz. Bottle(s) | |
| 2013 | Case | 12 * 9.3 oz. Bottle(s) | 062067 027628 |
| 2013, [PA Only] | Case | 24 * 9.3 oz. Bottle(s) | |
| 2014 | Case | 12 * 9.3 oz. Bottle(s) | 062067 027628 |
| 2015 | Case | 12 * 9.3 oz. Bottle(s) | 5012015011693 |
| 2015 | Keg | 1 * 5.3 gal. Keg | |
| 2015 | Keg | 1 * 7.9 gal. Keg | |
| 2015 , Cask | Firkin | 1 * 10.8 gal. Cask | |
| 2015, small cask {pin} | Firkin | 1 * 5.3 gal. Keg | |
| 25th Anniversary Brew, 2011 | Case | 6 * 25.4 oz. Bottle(s) | 0 62067 03217 2 |
| Barrel Aged Variety Pack | Case | 12 * 9.3 oz. Bottle(s) | 0 62067 02849 6 |
| Barrel Aged Variety Pack 2005 | Case | 12 * 9.3 oz. Bottle(s) | 0 62067 02848 9 |
| Harvest 2001 | Case | 12 * 9.3 oz. Bottle(s) | 5012015011594 |
| Harvest 2002 | Case | 12 * 9.3 oz. Bottle(s) | 5012015011600 |
| Harvest 2007 | Case | 12 * 9.3 oz. Bottle(s) | 5012015011617 |
| Harvest 2008 | Case | 12 * 9.3 oz. Bottle(s) | 5012015011624 |
| Harvest 2009 | Case | 12 * 9.3 oz. Bottle(s) | 5012015011631 |
| PA only} | Case | 12 * 9.3 oz. Bottle(s) | |
| PA only} 25th Anniversary Brew, 2011 | Case | 12 * 25.4 oz. Bottle(s) | |
| Variety Pack | Case | 12 * 9.3 oz. Bottle(s) | 0 62067 02762 8 |
| Vintages 1999/2000/2002 | Case | 12 * 9.3 oz. Bottle(s) | 0 62067 02762 8 |
| Vintages 2006/2007/2008 | Case | 12 * 9.3 oz. Bottle(s) | 0 62067 02762 8 |
| Wood Vintage 2007 | Case | 12 * 9.3 oz. Bottle(s) | 0 62067 02848 9 |
| Wood Vintage 2008 | Case | 12 * 9.3 oz. Bottle(s) | 0 62067 02848 9 |
| Zymatore, PX & Casa Tequila barrels w/Chambourcin Grapes | Case | 6 * 16.9 oz. Bottle(s) | |
| Zymatore,PX & Casa Tequila barrels w/Chambourcin grapes | Keg | 1 * 5.3 gal. Keg | |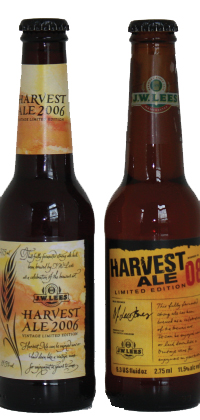 Picture: 2006 and 2008 Harvest Ale bottles